JUST RELEASED :

The Undead Pool : February 25, 2014

Witch and day-walking demon Rachel Morgan has managed to save the demonic ever after from shrinking, but at a high cost.

Now, strange magic is attacking Cincinnati and the Hollows, causing spells to backfire or go horribly wrong, and the truce between the races, between Inderlander and human, is shattering.

Rachel must stop this dark necromancy before the undead vampire masters who keep the rest of the undead under control are lost and all-out supernatural war breaks out. The only weapon to ensure the peace is ancient elven wild magic, which carries its own perils. And no one know better than Rachel that no good deed goes unpunished . . .
RECENTLY RELEASED :
Ever After : hard cover (mass market) release: 01/22/13 (10/29/13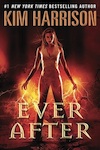 )
The ever-after is shrinking. If it disappears, so does all magic. It's up to Rachel to fix it despite the ever-after's most powerful demon saying otherwise. But Rachel has more than a few impressive and frightening skills of her own, and she isn't going down without one hell of a fight.
Excerpts, tour pictures, more . . .

HOLLOWS COMPENDIUM:

The Hollows World Book, The Hollows Insider is a full-color, illustration rich collection of spells, character descriptions, news articles, and recipes--among other tidbits. My intention with this was to make a beautiful companion guide, suitable for gift giving, not just fact finding.
More . . .