If it wasn't for the tour, I would have probably gone nuts with the anticipation for this release. As it is, I think I went a little giddy. From East to West Coast, I hit the tarmac on the twenty-first, but before that was a local signing at Charlotte NC. Most of the photos are gone now, but I left a few for the curious.
Charlotte, NC Park Road Books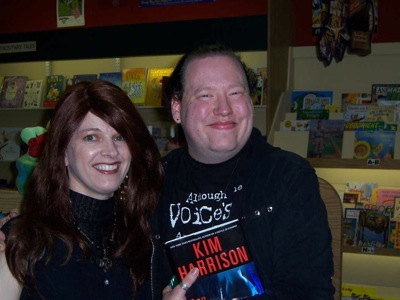 There were more than a few familiar faces in the crowd at Park Road Books, which made it a fantastic beginning.
San Francisco, CA
Barnes and Nobel at Jack London Square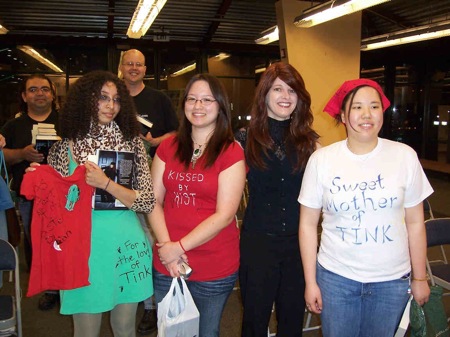 Three very enthusiastic readers came dressed for the occasion, complete with Ts sporting Hollows phrases. Love, love, love it!
San Diego, CA Mysterious Galaxy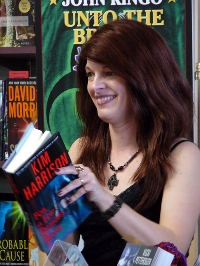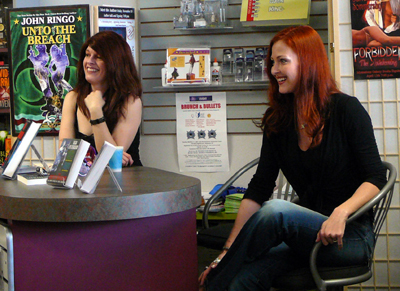 And in San Diego, my favorite independent store is Mysterious Galaxy. This was my third time back, and it was better than ever. Vicki Pettersson, author of SCENT OF SHADOWS, was signing with me. I had a great time!

Las Vegas, NV Clark County Library

The library was fantastic. These people really know what they're doing, so if you get a chance to go to an event here, do so. Lots of fun! I left my camera behind, so thank you, Mr. K for sending these to me!

Portland OR, Powell's Books

I was able to sign in the new Powell's this year, and wow, are they set up nice for events! We had a bit of trouble with the mike, (I think it was pixies) but once that was taken care of, it was easy fun. This guy I'd talked to by email previous to meeting him. Next year, he'll have a bike to show me. (grin)

Seattle, WA University Bookstore

First things first. Duane and me. If you go back to last year's tour, you'll get much the same picture, but this one, you can really see my boots. (grin) I had a chance to share some caffeine and a cookie with Mr. D (the sf/fantasy guru at the store) before the signing. I hope we get the chance to do it again.

Austin, TX The Book People
I forgot my camera . . . again. But Ms. E sent me a picture of me and her service animal, Destry. He was a sweet dog, but I didn't think he really understood why he had to sit for a picture. ;-) It was a very good signing, and they sold out completely!
Minneapolis, MN Uncle Hugo's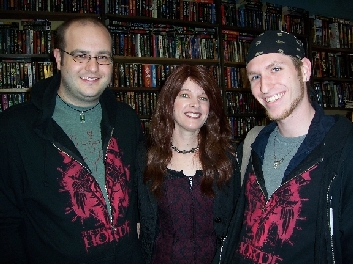 I stopped in last year at Uncle Hugo's for a drive-by signing, but this time, I got to sit down and meet some of Don's patrons. Here are two that I'd been in contact with previous to the signing.
Chicago, IL Borders and Books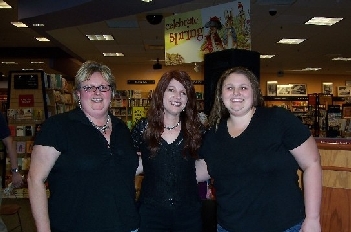 Chicago was excellent, made especially eventful for about three people I'd been waiting to meet. This is Ms. G, who missed me last year at Portland but sent her niece instead. If you go to the FOC tour pages, you'll see a picture of her niece holding a picture of Ms. G. (grin) This was better.
Dayton, OH Books and Company

Ahhhh, so close to Cincinnati. This was my last stop, and the crowd there was super! Lots of questions, and right in the middle of it, my writing buddy from Cincy walked in the door and I lost my train of thought.

And this picture speaks for itself. Wow, I was tickled three shades of leather at this reader's creativity and enthusiasm. What I want to know was how she knew I collect rubber duckies, (which was what was actually in the box.)
Rock Hill, SC The Book Rack
Costumed, end-of-tour decompression party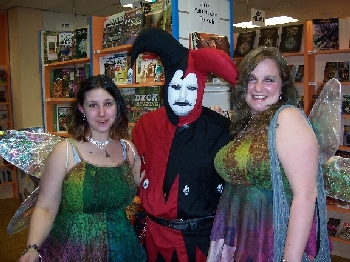 And the winners of the costume contest were the demon court jester and two of Jenks's kids. I had a fabulous time, and I want to thank everyone who came out to help me put this tour to bed in a great way. Thank you!