Here are just a few of the pictures that I took at the signings.
Burlington, Ontario
Chapters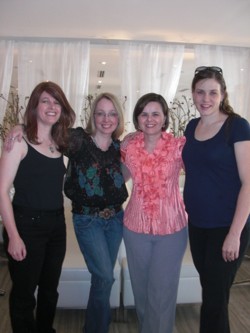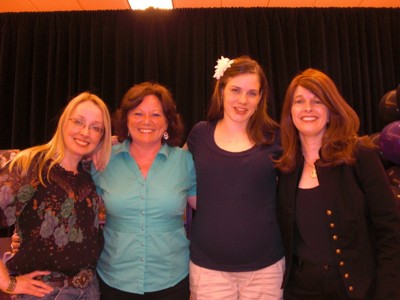 First stop, Burlington Ontario, which is about an hour and a half out of Toronto. After a business lunch with Harper reps and librarians (yay librarians!) we headed out for our event at Chapters. I've heard a lot about Chapters from my international readers, and I will admit I was suitably impressed! Books, coffee, sales associates who know books and love to share that. What more do you need?
Oshawa, Ontario
Chapters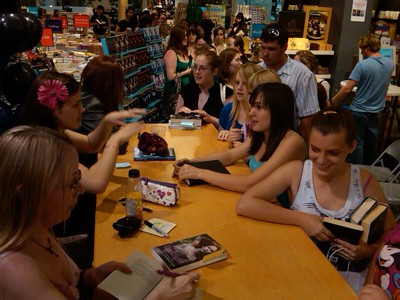 Oshawa Ontario! Aprilynn, Lesley, and I had a great time at Chapters. The crowds were great, and they were so nice to us. I hope I can go back someday.
Toronto, Ontario
Indgo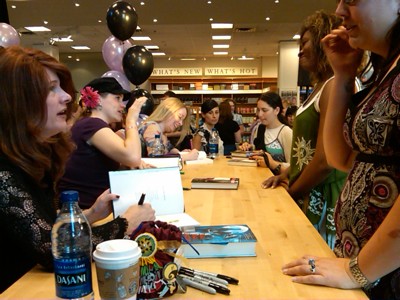 Indigo at Yorkdale was the largest signing yet! And Lesley, Aprilynn and I closed the Canadian part of the Supernatural Summer Tour down with a bang! Fingers crossed we get the chance to do it again. ;-)
Kansas City, MO
Johnson County Public Library/ hosted by Rainy Day Books

Rainy Day Books was great! There was a wonderful crowd at the library, with lots of great questions. The new bunny cam is still being broken in, but as you can see, we did get a few YouTubes!
Atlanta, GA
BARNES & NOBLE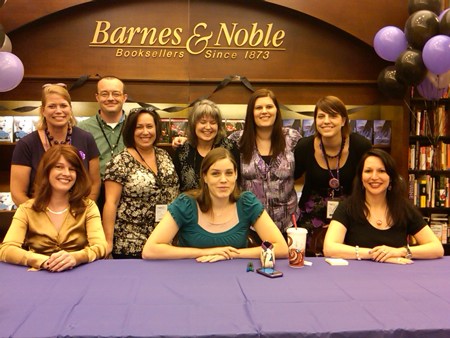 Ellen Schrieber joined Aprilynne Pike and me in Atlanta, where we had a wonderful event with a huge crowd of enthusastic readers. It was fabulous!
Dallas TX
BORDERS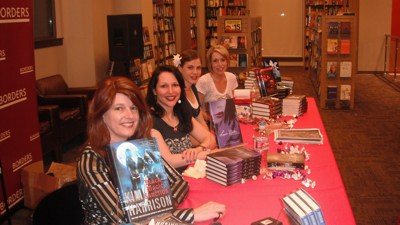 Borders in Dallas Texas was wonderful! Joining me, Ellen Schrieber, and Aprilynne Pike, was Kimberly Derting. Lots of great questions, and tons of smiling faces. It was great to get back to Dallas!
Houston TX
BARNES & NOBLE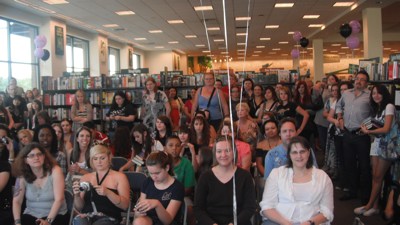 Houston B&N was wonderful! We kept the Q&A short so we could get through the signing in good time. Lots of smiling faces, and more than one had been at the Dallas event!!
Chicago (Naperville) IL
Anderson's Bookshop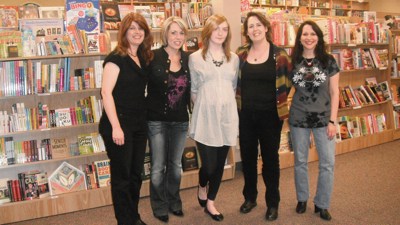 This was the second time the Supernatural Summer tour descended upon Anderson's books, and it was better the second time around! The questions were great, and the smiling faces even better. Pictured here are me, Kimberly, Elizabeth, (the winner of InkPop's writing contest) Kellley, and Ellen
San Diego CA
MYSTERIOUS GALAXY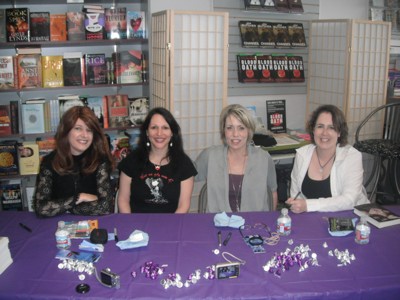 So we closed out the Supernatural Summer tour at Mysterious Galaxy in San Diego. This is one of my favorite stores, and not just because of the crowds!
Pictured from left to right. Me (Kim Harrison) Ellen Schrieber, Kimberly Derting, and Kelley Armstrong.